Welcome to the Radcomm UK's Weekly Tech Roundup. Here, you will find the latest and greatest tech stories all in one convenient spot; ensuring you are kept up to date with current events. If you wish to join our mailing list, feel free to drop us an email at sales@radcommuk.co.uk and we'll sign you up straight away. Make sure to follow us on Facebook and Twitter for news updates and exclusive online deals.
1. Car Thefts up 30% as criminals catch up with new tech
Are cars now a key target in cyber-crime? With technology advancing at such a rapid pace, does this new technology leave us and our possessions far more vulnerable than before? It would appear so, with the latest police figures suggesting that car thefts have increased by 30% over the past three years, due to criminals exploiting vulnerable technology.  
According to a report by Sky News, police data has revealed that there has been a 30% increase in car thefts over the last three years. This is despite the fact that many modern cars have opted against the use of a traditional metal key, with many manufacturers instead prefering the use of push buttons or contactless fobs instead.
Security experts have warned that this is mainly due to criminals catching up with the times, finding new and effective ways to break into cars, as can be seen in the video below.
To pull off this sneaky act, the criminals used a device to receive a signal from a remote car key located inside the owner's home. This signal was then transmitted to a second device which targeted the Mercedes on the Driveway. This, consequently, tricked the car's system into thinking the owner had unlocked the door, thus granting the criminals access to the vehicle.
Steve Launchbury, of Thatcham Research, told Sky News: "As the car is more digitally connected, obviously that opens it up to new types of criminality. When you have keyless-type vehicles where you physically just press a button and walk away, you've got the risk now of the signal being captured."
It would appear that there may be a higher price to pay for these additional comforts in our life.
Meanwhile, the RAC's head of external affairs has also offered some words of wisdom to those seeking advice on how to ensure their car is kept as safe as possible.
"If you're buying a new vehicle I would look around and see some of the reviews, especially in terms of the best technology out there because they are improving fast," the RAC's Pete Williams told Sky News.
"But for the vast majority of us, it's the traditional security methods that we would recommend. Think about where you park your car, try and park in a well lit area and if it's an area known for car crime or vandalism, try and avoid it. But then think about your vehicle itself – don't leave secure valuables on show in the vehicle, that's going to be an invitation. And then potentially use things we saw back in the 80s and 90s, like a security lock. These are both a visual and physical deterrent and we are seeing people returning to them now."
2. Samsung's new curved monitor: The CJ791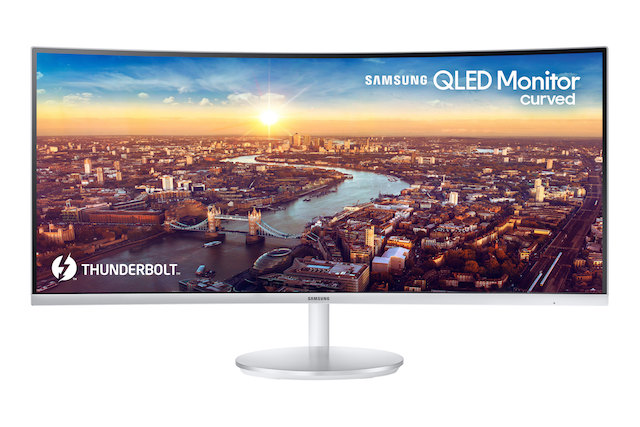 At a modest 34-inches, the CJ791 may not be the largest monitor released to date, but that hasn't stopped it from impressing tech enthusiasts around the globe. A key highlight – which Samsung has made their key selling point – is the addition of Thunderbolt (Thunderbolt 3 to be exact).
Samsung has described their newest monitor as being 'ahead of the game', whilst also increasing 'efficiency' at the workplace. The monitor itself falls just short of 4k at an impressive 3440×1440 screen resolution; so whilst you may not be able to get the best out a 4k camera (which resolution stands at 3840×2160) from your CCTV system, it will certainly provide a great picture for any 1080p camera you may have as part of your CCTV system.
According to Samsung, they state that 'Professional users can also enjoy the flexibility to customize the CJ791 to their unique workspace. Along with the wire-reducing Thunderbolt 3 connectivity, the CJ791's slim-depth and narrow-bezel design accommodates multi-display setups without sacrificing content consistency or visual appearance. The display's height-adjustable stand and tilt functionality also empower users to customize positioning and work within their most comfortable viewing parameters'.
As for the addition of Thunderbolt 3; what exactly is Thunderbolt 3 you may ask? Well, according to The Verge, Thunderbolt 3's primary advantage is the ability to streamline the number, as well as the size, of cables needed to connect peripherals to your computer, hence Samsung's increase' in 'efficiency'. Samsung has yet to disclose the full specs, price and availability of their newest monitor, however, expect a significant price increase. We don't see any significant improvement here to justify the likely price hike, as the switch from HDMI to USB-C will be unlikely to justify the price hike.
We'll keep our eye on this model, but we think it is likely to be a miss for us.
– RADCOMM UK Promotion –
TC-620 Analogue Radio 
January buy price: £̶1̶3̶9̶.̶9̶9̶   
Now only     £114.99!

Superior Audio Clarity

Reliable Mechanical Design

Enhanced Speaker Protection

Added Benefit for Your Business
Grab yourself a bargain this January with the fully licensed TC-620 for an amazing £114.99!
If you were considering adding an additional radio to your fleet this new year, now is the time to do so. The TC-620 is available in both UHF or VHF and is therefore fully compatible with your licensed radio fleet. Don't miss out on this great offer and take advantage today.
Email us at sales@radcommuk.co.uk or give us a call on 0115 952 2777 for further details.
– RADCOMM UK Promotion –
3. Apple apologises for intentionally slowing down iPhone batteries
Apple has apologised to their customers for intentionally slowing down batteries and performance of older iPhone models. The models in question include the iPhone 6, 6s, 7 and SE.  
In reaction to these revelations, other mobile giants HTC and Motorola have since announced that they implement no such feature on to their handsets, leaving Apple red-faced from the backlash they have received on social media.
Hoping to capitalize on #Apple battery controversy, @HTC and @Motorola volunteer that they don't slow down old phones https://t.co/PHLZyjHAXB pic.twitter.com/ZDHNhhlM4E

— AppleInsider (@appleinsider) December 28, 2017
Although Apple has since explained the reason behind the slowdown in battery life was to prevent abrupt shutdowns of the handset, Apple's consumers are having none of it. The Guardian has reported that at least eight class-action lawsuits have been filed against the tech giants as a result of this admission. All parties argue that they never gave consent to Apple to slow down their devices.
In a statement on their website, Apple said 'We've been hearing feedback from our customers about the way we handle performance for iPhones with older batteries and how we have communicated that process. We know that some of you feel Apple has let you down. We apologize. There's been a lot of misunderstanding about this issue, so we would like to clarify and let you know about some changes we're making. First and foremost, we have never – and would never – do anything to intentionally shorten the life of any Apple product, or degrade the user experience to drive customer upgrades'.
Conveniently, Apple followed this post with an update in their battery prices which have since been coincidentally slashed in price from £79 to just £25. To further address customer concerns, Apple has stated they will now take the following steps.
Apple is reducing the price of an out-of-warranty iPhone battery replacement by £54 — from £79 to £25 — for anyone with an iPhone 6 or later whose battery needs to be replaced, available worldwide until December 2018. Details will be provided soon on apple.com/uk.
Early in 2018, we will issue an iOS software update with new features that give users more visibility into the health of their iPhone's battery, so they can see for themselves if its condition is affecting performance.
As always, our team is working on ways to make the user experience even better, including improving how we manage performance and avoid unexpected shutdowns as batteries age.
4. Dating website eHarmony's 'scientific' match ad banned
Dating website eHarmony's claim that it uses a 'scientifically proven matching system' has now been banned following The Advertising Standards Authority (ASA) decision that the site's claim was misleading.
Well, who would have guessed? eHarmony wasn't being completely honest with us in their assurances that they used 'science' to match pairs on their site. The BBC has reported that although the love-matching site 'respectfully disagrees' with the ruling, they will now make an effort to make their advertising 'as clear as possible'.
The advert in question read:
Step aside, fate. It's time science had a go at love.
Imagine being able ot stack the odds of finding love entirely in your favour. eHarmony's scientifically-proven matching system decodes the mystery of compatibily and chemistry so you don't have to. Why leave the most important search of your life to chance?
Try something different todat. Join eharmoony.co.uk 
The complaint was initially logged by Lord Lipsey, who just so happened to be a former member of the ASA Council. He argued that the phrase 'scientifically proven' shouldn't be used unless the claims are 'just that' and not 'crude puffery designed to lure in those longing for love'.
"This is a new form of fake news which the ASA has rightly slapped down," he added.
In reality, the site operates through an algorithm which uses questionnaires that have been completed by users to determine a couple's compatibility. eHarmony argues that its users would understand the advert means that this scientific approach could potentially work for them and that it would obviously not guarantee love.
The ASA, however, disagrees. They concluded that the terms 'scientifically proven matching system' would be interpreted by users that the scientific studies had found the site offered a better chance of finding love compared to those who did not use the site. Something which is unproven.
5. Amazon's top-selling digital cameras 2018
Every week, we'll take a look at the highest trending products on the net, to let you know the hottest gizmos and gadgets out there. This week, we'll be taking a look at the top 5 selling cameras on Amazon, highlighting the model, the price and the people's verdict.
See below the top 5 most sold cameras currently on Amazon including features, price, rating and a hand-picked review from the Radcomm UK team.
Price: £149.00

Rating: 4 Stars
Small, yet packed with high-end features and components to give you dazzling photos. The WX350 has a 20x zoom and an Exmor™ R CMOS sensor, combining powerful precision photography with pocket portability.
18.2 MP Exmor R CMOS sensor
G Lens with 20x optical zoom
NFC one-touch Wi-Fi sharing and control
Pixel Super Resolution technology analyses each pixel and up scales images restoring detail at zoom
Radcomm's top review – Rusty
Hands down probably the best point and shoot camera in its price range. Takes stunning pictures as well as videos which you just cant fault. If you want a small, easy to use camera which adjusts all the settings for you, THIS IS THE ONE!
Pros;
Very good sensor so the picture quality is just out of this world. Very fast focusing.
Automatically adjusts setting so you always get the best results.
Very good at low light if you don't want to use the flash. Does some amazing wizardry and results are fantastic!
Video is very smooth and with built in optical stability, looks great! Shoots Full HD at 60fps.
20x zoom is terrific and stable!
Does 360 panorama which is really easy to shoot.
Has both Wi-Fi and NFC so you can wirelessly stream your pics to your PC, Phone, Tablet or TV.
Oh did i mention that the battery life is out of this world! 470 pictures on one charge! Other similarly prices cameras cant even get 300.
Cons;
Although build qual is excellent, aluminium body etc, the shutter button feels a bit spongy and somehow fragile. Doesn't feel secure or sturdy. Never the less it works great! And if it ever breaks theres a 1yr guarantee.
Screen res is average. Only a 460k display. Would be nice to have a 921k like on the HX60. But its not like your going to be using it as a TV screen, and as the camera adjusts all the settings for you, all you'll be using it for is aligning the shot.
Conclusion;
If your looking for a compact camera with amazing performance that will automatically adjust all your settings and only cost £180. This is the one!

Price: £44.77
Rating: 4.5 Stars
Crosstour Action Camera is both waterproof and durable. It is designed to enhance the experience of the users without hurting the budget. As it is water proof, it can be a good option for the swimmers and divers, it operates well underwater at thirty meters feet and is able to capture the nuance of the color.
【4K Ultra HD Action Cam】- Ultra HD 4K resolution is able to restore a real world for you. 170° Wide-angle will bring you a broader view of your surroundings.

【30M Underwater Camera】- The waterproof case allows you to dive up to 98.4ft. Just Fill yourself with joy of beauties in the amazing underwater world.

【Built-in Wi-Fi Sports Cam】- The camera is completely under your control in "iSmart DV" APP via Wi-Fi. Video, photo shooting and files editting can be all realized.

【2 Inch LCD Helmet Camera】- Larger screen brings you better visual experience. 20 fascinating mounting accessories can meet most demands of outdoor sports.

【2 Long Life Camera Batteries】- One battery can record up to 90 minutes. No more worry about short recording time. Good companion of your outdoor activities.
Radcomm's top review – Grybaz 
Great value for money and great alternative for Gopro. Plenty of accessories in the box plus 2 batteries. Great starter kit. I found them more useful in higher risk areas, for example close to rallycross stage. Damage often is inevitable, however price of the camera isn't as painful as loosing Gopro etc.
Price: £399.99
Rating : 4 Stars
The D3400 makes it spectacularly easy to shoot and share DSLR-quality images. Nikon's SnapBridge¹ keeps the camera connected to your smart device via Bluetooth®² so you can actually sync photos as you shoot. Pick up your phone and the photos are there, ready to share: no fuss, no waiting.
Share instantly with SnapBridge, the constant connection with your smart device
Take good images everywhere; the small DSLR that keeps on shoting
Go cinematic with full HD movies
In-camera special effects and picture controls
Radcomm's top review – Sue H 
I will happily admit to being a Nikon DSLR fan, owning several of their more upmarket bodies D5200, D5300, D500 and D750 and their small mirrorless camera J5. If you're moving up from a phone camera there are other good brands to consider, Canon, Fuji, Sony Olympus and Panasonic… If you're looking to under take a photography in a big way more than a few family snaps on holiday then its worth considering the number and type of lenses available. Canon and Nikon have a lot of lenses and several third party companies make lens which fit either.
Details are below but overall as an entry level DSLR I think this is very good camera, I've taken some very nice images on it. Sunsets, flowers, birds etc. But have also put some other Nikon lens on the body, which work fine. Some of these are far more costly than the camera package, but does show you don't necessarily need to upgrade the body with higher quality lenses.
In the box
The is the camera body, a strap, a battery ENEL-14A and wide angle zoom lens 18-55mm. There is no film!!! The camera takes a single SD card, none is supplied and the camera has no internal memory. I've used Sandisk and recommend them, Amazon stock plenty of sizes.
Camera type
The 3400 is the latest version of Nikons entry level cameras. It has a cropped sensor Nikon call these DX. It means the sensor is smaller than 35mm film from 20 years ago. Very many cameras have a cropped sensor, DX is good enough for very many amateur uses. The focal length of lenses is measured in 35mm equivalents. But on a crop sensor it means that the lens appears to be closer. So if you want to get bigger pictures of things far away this works in your favour, but if you want to take wide angle pictures perhaps landscapers or large family shots this does not work in your favour.
The screen on the back is quite large and the images clear, you can zoom in to check a picture after its been taken to check the focus. It is fixed though; some screens articulate useful for low or over head shots. If you want to VLOG you probably need a screen which fully articulates and turns over so you can see it when in front of the camera.
Body and lens construction
This body is light, a lot of it must be made from plastic, which may make it feel cheap. The body is much smaller than many of the pro/semi pro bodies. I find it a good size, but it depends on your perspective, it will seem huge if you're coming from a small compact camera, or a phone. But guys with large hands often prefer a bigger body finding it easier to grasp.
Camera function
The camera body has all the functions you might need. Manual, shutter and aperture, priority, programme and auto. There are some suggestions for settings, portrait, landscape, child, sport and close up and night portrait. Some of these will pop up the inbuilt flash, which may not be what you want. These are not fail safe. Sport for example, having chosen this indoors the camera is picking 1/30s exposure. It would be hard to hand hold the camera and not get a blurred picture, you'd want much higher for sport to freeze the action.
Lens 18-55mm
The lens is a new P type from Nikon. It has a button which locks it in place and you have to extend it to take a picture. Whilst this is tidy I find it a nuisance as by the time I've pressed the button I've missed the shot. The advantage of this new lens is that its silent when focusing. Great for video though as you don't get the sound of the motor as it the lens focus. 18-55mm is fairly wide angle to standard close to what your eyes see. Good for landscapes and group pics. If you want to capture sports, or wild life where you cant get close to the subject then you'll want to invest in other lenses 100mm plus. But that's the greatthing about all DSLRs you can invest in lens to match the things you want to photograph.
Pictures
In good light I found the picture bright and well saturated. Folk will often say they prefer the colours of one camera system over another, but you can adjust the settings in camera to make them dull or vivid, and if you want tweak further using software such as Adobe lightroom or photoshop. In poor light the pictures get more grainy, and the colour suffers but you can take pictures in very poor light without the flash.
Video
To film video you can't use the viewfinder, you have to use the screen on the back, as you would on a phone. Unlike a phone to screen does not respond to touch. Nikon is not the best manufacturer for video. Some of the Canons and mirrorless cameras are better as the focusing is more precise, but they are mostly more costly. I found this perfectly good for static and slow moving subjects. Not so good for fast action as it looses focus. Fine for some footage of the kids for granny, but where its important to keep in focus. That said you can turn the autofocus off and use manual and get better results.
Snapbridge
This is Nikons app for Apple and Android to transfer images from the camera wirelessly. Its been around a couple of years and the initial versions were a waste of time, you might or might not be able to pair the camera, but if you did then it was random if it connected and transferred any thing. Never worked when you needed it. However I think it has improved in recent weeks and has worked ok with this model. But I wouldn't buy the camera just based on this though.
Price: £59.99
Rating: 4.5 Stars
Take great selfies and pictures of your friends with this all new dual lens Kidizoom camera! The two lenses can be swapped between at the touch of a button, making photo taking of any occasion effortless. Add fun distortion effects, stamps and frames, or use the auto-portrait feature to take photos automatically. You can also film movies, adding animations along the way. Record your voice and add funny effects to it! Other great features include 4x digital zoom, You and Me photo effects, 5 great games, Wacky Photo Shaker, photo editor and Silly Face Detector. All of this is easily seen on the large 2.4 inch colour screen.
Front Camera:1600*1200(2.0MP) Back Camera:640*480(0.3MP)

Switch between the two lenses with the dedicated switching button

Record your voice and add funny effects to it

2.3 inch colour LCD screen
Radcomm's top review – James Ward
It's ok, my 4yo enjoys taking photos and this was in an effort to allow us to take photos at the same time with something a little more robust than my iPhone or SLR.
The body is good and grippable, the boy mastered the controls in no time. It survived a couple drops, however one managed to jettison the batteries so there's a design issue there.
Takes a Micro SD to expand memory, internal memory is probably good for 70ish photos. Worth noting is that you can't use both internal and SD at the same time.
Sadly the end result looks pretty awful, the noisy grainy photos are utilitarian and in this age where you can get a 5MP OEM camera sensor for £5 this really is inexcusable, even if it is a kids toy.
We'll keep it, the boy loves it and the next stage would be a tough camera (like a Polaroid IE090) that takes photos you can actually print out for them.
Price: £69.00
Rating: 4 Stars
Whether it's nights out or holiday snaps – the W800 digital compact camera is packed with features that make it easy to shoot clear, beautiful photos and HD video. Get up close with 5x optical zoom and switch to Party Mode to get great shots without compromising on fun.
Digital compact camera with 5x optical zoom
26 mm wide-angle lens and SteadyShot
Super HAD CCD 20.1 MP sensor
Capture everything with a wide-angle lens
Radcomm's top review – Amazon Customer
I normally carry a pair of Nikon DSLR cameras and a set of lenses. This little camera was purchased as a snapshot camera to fit in my pocket for the occasions when I do not have my big cameras with me. It is a very simple camera with no complex settings – just point and click. I like it and it is fit for function. Excellent outdoors, Ok with flash, poor in dark light – at a very good price. At 20 megapixels it produces usable general images that I can adapt for publication and internet use. I am very satisfied with this little camera.
– RADCOMM UK Promotion –
TC-620 Analogue Radio 
January buy price: £̶1̶3̶9̶.̶9̶9̶   
Now only     £114.99!

Superior Audio Clarity

Reliable Mechanical Design

Enhanced Speaker Protection

Added Benefit for Your Business
Grab yourself a bargain this January with the fully licensed TC-620 for an amazing £114.99!
If you were considering adding an additional radio to your fleet this new year, now is the time to do so. The TC-620 is available in both UHF or VHF and is therefore fully compatible with your licensed radio fleet. Don't miss out on this great offer and take advantage today.
Email us at sales@radcommuk.co.uk or give us a call on 0115 952 2777 for further details.
– RADCOMM UK Promotion –